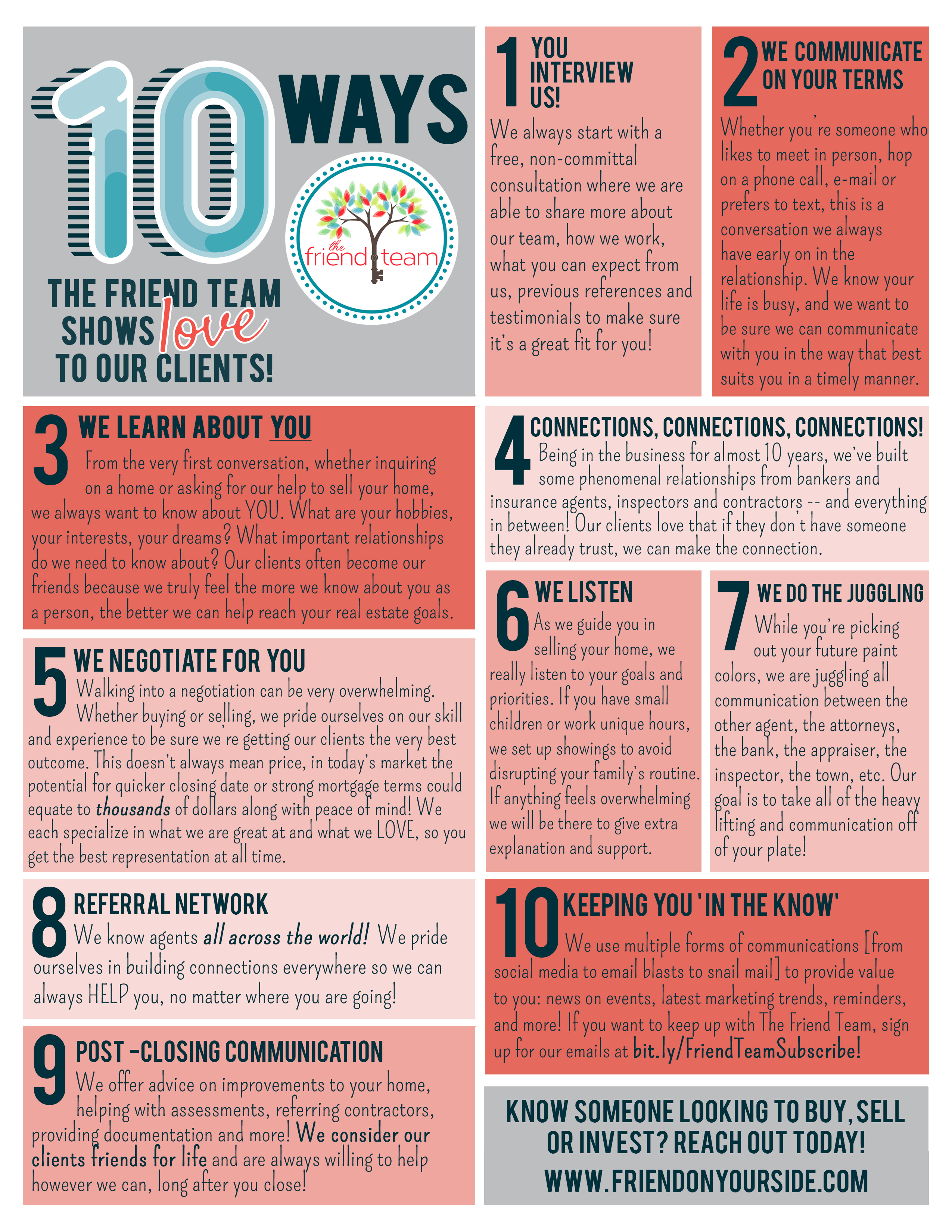 1. YOU INTERVIEW US
We always start with a free, non-committal consultation where we are able to share more about our team, how we work, what you can expect from us, previous references and testimonials to make sure it's a great fit for you!
2. WE COMMUNICATE ON YOUR TERMS
Whether you're someone who likes to meet in person, hop
on a phone call, e-mail or prefers to text, this is a conversation we always have early on in the relationship. We know your
life is busy, and we want to be sure we can communicate with you in the way that best suits you in a timely manner.
3. WE LEARN ABOUT YOU

From the very first conversation, whether inquiring on a home or asking for our help to sell your home, we always want to know about YOU. What are your hobbies, your interests, your dreams? What important relationships do we need to know about? Our clients often become our friends because we truly feel the more we know about you as a person, the better we can help reach your real estate goals.
4. CONNECTIONS, CONNECTIONS, CONNECTIONS
Being in the business for almost 10 years, we've built some phenomenal relationships from bankers and insurance agents, inspectors and contractors — and everything in between! Our clients love that if they don't have someone they already trust, we can make the connection.
5. WE NEGOTIATE FOR YOU!
Walking into a negotiation can be very overwhelming. Whether buying or selling, we pride ourselves on our skill and experience to be sure we're getting our clients the very best outcome. This doesn't always mean price, in today's market the potential for quicker closing date or strong mortgage terms could equate to thousands of dollars along with peace of mind! We each specialize in what we are great at and what we LOVE, so you get the best representation at all time.
6. WE LISTEN
As we guide you in selling your home, we really listen to your goals and priorities. If you have small children or work unique hours, we set up showings to avoid disrupting your family's routine. If anything feels overwhelming we will be there to give extra explanation and support.
7. WE DO THE JUGGLING
While you're picking out your future paint colors, we are juggling all communication between the other agent, the attorneys, the bank, the appraiser, the inspector, the town, etc. Our goal is to take all of the heavy lifting and communication off of your plate!
8. REFERRAL NETWORK
We know agents all across the world! We pride ourselves in building connections everywhere so we can always HELP you, no matter where you are going!
9. POST-CLOSING COMMUNICATION
We offer advice on improvements to your home, helping with assessments, referring contractors, providing documentation and more! We consider our clients friends for life and are always willing to help however we can, long after you close!
10. KEEPING YOU "IN THE KNOW"
We use multiple forms of communications [from social media to email blasts to snail mail] to provide value to you: news on events, latest marketing trends, reminders, and more! If you want to keep up with The Friend Team, sign up for our emails at bit.ly/FriendTeamSubscribe!